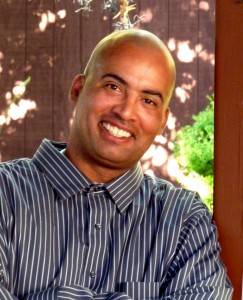 JOEL B. WHITE (b. 1969 in Minneapolis, MN) lives in San Diego, CA, having studied at UC Berkeley.
As a self-taught artist, Joel has been creating unique representations since he was a youth. His other mediums include written and performance poetry and rap. Over the past five years, he has generated a large body of work in pen and ink on paper.
A long-term resident of San Diego, some motifs that emerge from Joel's work reveal his environment: seascapes, landscapes, vessels, flora and fauna. Other abstract themes reflect life experiences, dancers, faces and spiritual subjects.
Working outside of any particular artistic movement, White's work falls most easily into the Brut/Outsider genre. As such, in the words of Jean Dubuffet, it is certainly "uncooked by culture." Currently Joel is producing a number of series within selected topics reflecting his surroundings.
Art collectors throughout the United States have purchased his work, and it has been exhibited at the Lady Bug Art Studio in San Diego, California, and elsewhere. Among more than 1,000 submissions to the XXII Annual Juried Exhibit at the Athenaeum Music & Arts Library in La Jolla, California, Joel's elegant work, "Woman Reclined" was selected for exhibit. Joel was one of 46 artists chosen for inclusion.
Joel's work was also featured in a large group show at the Coronado Art Walk in San Diego, California, in September 2015, at the Coronado Ferry Landing. More than ninety artists from several hundreds of entries were juried into the Art Walk which is sponsored in part by the Coronado Historical Association and the San Diego Unified Port District each year.
About Joel's Artistic Process
Joel creates most of his work without an initial vision, turning a blank sheet into a spiritual journey through images, which may or may not become representational. Forms suggest themselves to him as he creates. While his pieces develop he reflects on what has come from his spirit and faith. His works are spontaneous and multifaceted—often having an intense and emotional impact. In keeping with his highly sensitive nature, White's works evolve as he gives his creative forces structure, composition and balance.
Stylistically, Joel's work is intuitive. He draws inspiration both from his spiritual views and his moods and thoughts. Moving through each day allows him to breathe in the sights, sounds and textures of his surroundings, which add to the wellspring of his innovative energies.